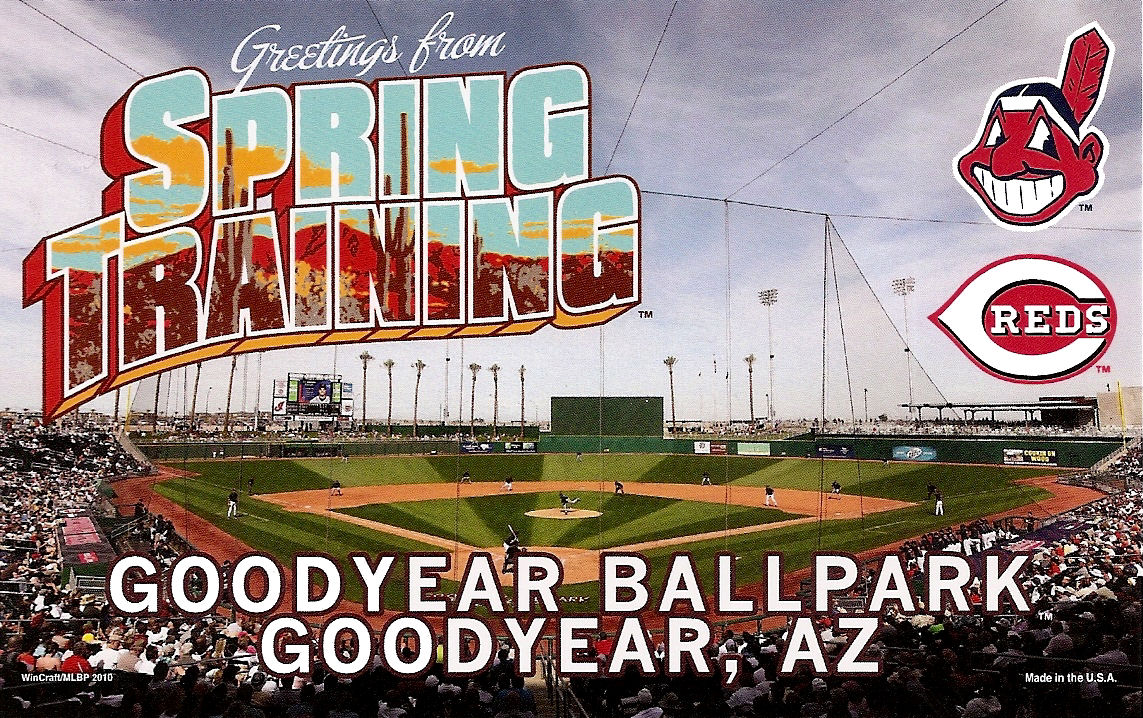 As the Cleveland Indians head to Goodyear, Arizona in preparation for the 2013 season, SportsTime Ohio is excited to provide in-depth coverage of Indians Spring Training.
The television home of the Tribe will air six live games as well as several shows featuring player and coach interviews and Spring Training news and updates. Details and a complete schedule are below.
Spring Training Games
STO will televise six live Spring Training games. Rick Manning and Matt Underwood will call the action.
Mar. 17th at 4pm EST @ Cincinnati Reds

As spring training neighbors who share the same ballpark in Goodyear, STO will produce this game in conjunction with FOX Sports Ohio, television home of the Cincinnati Reds. Rick Manning and Matt Underwood will call the game along-side Reds broadcasters Thom Brennaman and Chris Welsh.

March 18th at 4pm EST v. Milwaukee Brewers
March 21st at 4pm EST @ Arizona Diamondbacks
March 22th at 10pm EST v. Arizona Diamondbacks
March 24th at 4pm EST v. Chicago Cubs
March 26th at 4pm EST v. Oakland Athletics
Spring Training Daily
– 1st edition
Spring Training Daily
is a 30-minute show hosted by Underwood and Manning from Goodyear. It will cover everything Indians Spring Training, from position battles and roster updates to practice highlights and player interviews. Katie Witham will also provide features and interviews. The show premieres Monday, Feb. 18th at 9:30pm EST and will run nightly at 9:30pm through Friday, Feb. 22nd. The program will also replay each night during that week at 11pm EST.
In conjunction with the regularly scheduled All Bets Are Off on Mondays through Thursdays 3-6pm and Sundays at 7pm, Bruce Drennan will make a trip to Arizona beginning Sunday, Feb. 24th through Thursday, Feb. 28th. Anchored from STO's Hyundai Studios in Cleveland, the show will check in with Drennan to provide exclusive interviews with Indians players and coaches and live updates from Goodyear. Viewers can continue to call into the show at 866.786.8551.
Spring Training Daily
– 2nd edition
The second edition of Spring Training Daily will air LIVE nightly at 9:30pm EST from Monday, Mar. 25th through Friday, Mar. 29th. This 30-minute show, hosted by Al Pawlowski and Jason Stanford from Cleveland, will highlight Indians Spring Training breaking news and team updates as well as featured reports from Underwood in Goodyear.
Katie Witham will sit down with new Indians players and coaches in Goodyear, giving Tribe fans a look into the new faces on the Indians roster. This 30-minute show will premiere at the end of March. Check your local listings.